Rancho Bernardo Fitness center that specializes in weight loss, toning and strength training.  Pure Motion's Group Training program is a "Semi-Private/Small Group" Personal Trainer-led workout that provides a total body fitness solution through an innovative 40 minute "cardio-resistance, functionally integrated, dynamic exercise session".  All Group Training sessions combine the disciplines of Resistance Training, cardiovascular/Aerobic Exercise, and Functional Exercise into a high energy, fun and time-efficient workout.  The results are amazing!
Mission Statement:
Our mission is to Energize, Educate, and Empower people to a higher quality of life by inspiring changes in the areas of exercise, nutrition, and mindset.
Core Values:
Delivering exceptional permanent body composition change results – This is our core competency as an organization and trainer team. By applying a systematic approach of manipulating food and exercise variables, grounded in the 4 factors to fitness success, we celebrate client success in achieving their ideal bodies.
Exemplifying the highest standards of trust, responsibility, enthusiasm, communication and knowledge – To maximize our effectiveness as trainers and leaders we champion these character traits and qualities. They serve as a foundation to meeting basic client expectations of having a trainer that can be counted on to follow through with commitments, energizes them to accomplish, can provide and manipulate the protocol necessary for goal achievement, and has their goals as the highest priority.
Engaging in transformational trainer-client relationships – Providing support, accountability, motivation, and friendship. Valuing the interpersonal exchange and intangibles of the process towards goal achievement that help clients (and each other) achieve higher levels of them-selves.
Providing HOPE for the client's future – Providing a sense of hope for a better tomorrow and increased longevity is at the core of the process that we engage in daily. Generally, the pursuit of one's physical fitness goals yields the hope that propels one to make revolutionary changes in his/her life.
Achieving a higher quality of life – This is truly our mission's end. It is the end goal of the process and is a continual process in itself. Not that one arrives, but that they recognize progress towards arriving at greater balance in life and personal effectiveness physically, mentally, emotionally, and spiritually.
Building Communities and Social Circles – We value the ripple effect of each individual achieving higher levels of themselves and then affecting others through life on life interaction. By serving the individual we serve the community.
Watch this video to learn more about what we have to offer!!!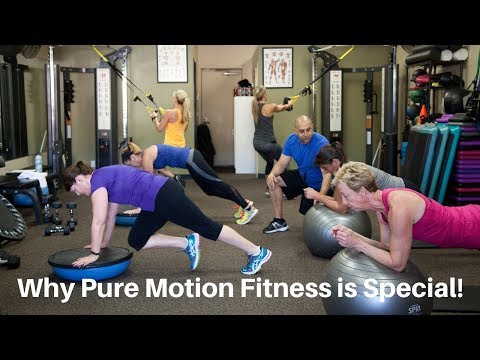 Special Offer
1 Week Trial – Unlimited Group Classes $20
Call Today – 858-442-9054
Pure Motion Fitness Staff
Kevin Moses, BS, CSCS, FDN, CMTA
Kevin has been following his passion for health and fitness for the past 15 years.  He has a degree in Exercise Physiology and is also certified as a Strength and Conditioning Specialist.  He also has received a certification as a Functional Diagnostic Nutritionist, which has allowed him to educate on topics such as hormones, immune function, digestion, and the detoxification functions.  He loves sharing his passion to help others improve their health and their lives. Contact Kevin here.
Kathy Meier, NASM-CPT
Kathy is a Certified Personal Trainer through The National Academy of Sports Medicine. She has been in the fitness industry for 3 decades. Kathy's primary goals are to help clients become structurally sound, improve functional movement and help them meet their personal goals.  She personally makes adjustments for individuals with physical challenges from past injuries, current complications and the joys of aging. Kathy specializes in helping women 40+ address the challenges of the aging process.  She looks forward to personally meeting you and helping develop the workout plan that best fits your needs.  She provides group training classes as well as private personal training in North County. Please contact Kathy here.

Ashley Williams,  ACSM-CPT
Ashley has been in the fitness and nutrition industry since 2009. She has a Bachelor of Science degree in Nutritional Sciences from the University of Arizona with a minor in Chemistry. She is also a certified personal trainer through the American Counsel of Sports Medicine. She is originally from Tucson, AZ but moved to San Diego in 2011 with her husband. She has a 15 mo old baby girl who is quickly becoming just as active as her! She loves helping people achieve their best selves: meeting them at their starting level and coaching them to new heights! Ashley's passion of nutrition and physical fitness blend for overall health and wellness coaching.  Please contact Ashley here.
Sebastian Moua, CPT
Trainer Sebastian was in Fresno California but raised in San Diego, certified as a Fitness Specialist, and Kickboxing Fitness Trainer. His passion for sports, fitness and health are what led him into becoming a trainer while making a positive impact in people's life is what drives him. His hobbies and experiences are Crossfit, kickboxing, obstacle course races, strength and conditioning training, functional training, and muscle building. Whether you're new to fitness or an athlete, Sebastian will work closely with you to help you obtain the best result for your fitness goals.
Contact Sebastian here.