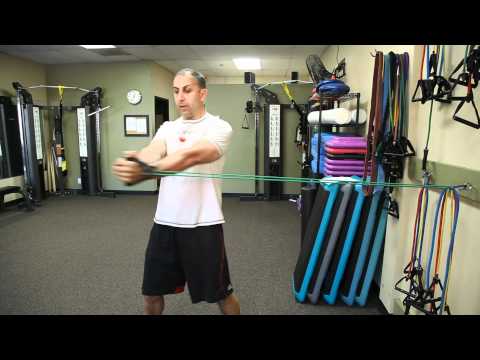 Importance of golf specific exercises:
If you love golfing and want to improve your golf swing then one of the most important things you will have to do is to learn and practice the right golf specific exercises. There are varieties of golf training exercises which one must practice to improve the game performance. Some of them provide improvements in golf swinging; some provide grip improvements while others provide strength and timing.
There are golf stretching exercises too which can be helpful in relaxing the muscles and maximizing the ability to perform well during the game. Read further to discover some of the most effective and time proven golf specific exercises that can improve your golfing skills quickly in few days.
Primary types of golf specific exercises:
1) Golf strength training exercises: Golf strength training exercises provide power and speed to the players. To eliminate the chances of injury and to maximize the golfing skills, a player must train hard and strength training exercise can be the best choice for such golfers. If you want to excel in the game of golf then you must have prime qualities of famous and successful players such as Tiger Woods. Core strength, speed, flexibility and strong legs are qualities of a good golf player. Strength training exercises like cardio sprints, core twist, lunges, chest press punches, abdominal crunches, standing rows, jogging and lateral skips are very effective in improving the overall speed and agility of any golf player.
2) Golf resistance training exercises: Golf resistance training exercises can also help any golfer to enhance the ability to swing systematically and eliminate the chances of injuries during the game. Start with light weight lifting and progress gradually towards heavy weight lifting to strengthen your core muscles and to gain maximum muscle power. The forearm and shoulder muscles have most chances of injuries in the game. That's why one must practice golf resistance training exercises such as wrist extensions, wrist curls, ball squeezes, etc.
3) Golf stretching exercises: Golf stretching exercises are critical to prevent any muscle injury during the game. Stretching exercises provide much needed flexibility and speed to the muscles that are required for proper golf swing. Yoga exercises are one of the best golf stretching exercises that can provide great balance, flexibility, strength and body stability. Yoga is also important for improving your game focus and concentration. Different postures in yoga can enhance the performance of your shoulder and forearm muscles as well as they can help improvise your body balance which is greatly needed during the golf swinging.
4) Golf warm up exercises: Golf game demands repetitive rotation as well as extension of your hips, torso and thighs. The normal golf warm up exercises are really necessary to perform before the beginning of any game. These exercises keep any players away from any possible muscle injuries and relax the muscles to let them work to their maximum capability. The ab muscles as well as back muscles must get proper warm up exercises to enhance their efficiency during the game. Some of the easiest and fastest golf warm up exercises are hip rotations, lunge stretching and plank exercises.
Learn and practice the above four types of golf specific exercises and improve your golfing skills as soon as possible.