A medicine ball is a simple but versatile piece of fitness equipment that provides resistance during exercises. Used correctly, a medicine ball will help enhance your strength, speed, balance and muscle definition. These balls are especially effective for achieving flat abdominal muscles.
Medicine balls come in several varieties. Some medicine balls, called core balls, have handles on them, as kettlebells do. Handles – which can be detachable or non-detachable – offer a more secure grip and thus a wider range of movement. Also, with core balls, it's easier to work out with two medicine balls simultaneously. Other medicine balls come with ropes fastened to them: a rope makes it easier to perform swinging and throwing motions. Then there's the classic medicine ball, which has nothing attached.
Another contrast between medicine balls is the material they're made from. Originally, all medicine balls were leather; leather balls are still the most affordable. Nowadays, however, you can purchase medicine balls with nylon and heavy vinyl exteriors. Such balls are soft and plush – they feel like heavy pillows when you hold them. In addition, some medicine balls have air inside.  Balls inflated with air may be used in swimming pool workouts, too, as they can float. On the other hand, if a medicine ball is filled with gel, it won't bounce or float.
The most important differences between medicine balls, however, are their weights. (Most medicine balls weigh between 2 and 25 pounds.) It's imperative you work out with a medicine ball that's the right weight for your fitness level. A ball that's too light yields few benefits. A ball that's too heavy could lead to injury. Try out a number of medicine ball weights before settling on a product to buy. And as you grow stronger, replace your ball with heavier models. If you're unsure what weight is right for you, consult a personal trainer.
Once you start working out with a medicine ball, you might wonder how you ever did without it. You'll see visible results faster, and surely you'll appreciate how easy it is to use. You don't have to worry about storing and maintaining an expensive set of weights, and you can bring your medicine ball with you wherever you go. Maybe you'll keep one in your workplace for exercises during breaks.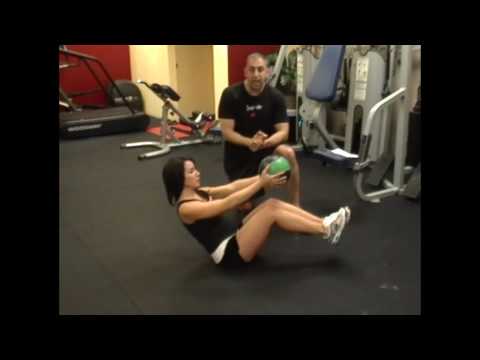 Here are a few medicine ball exercises to get you on your way to flat abs. To do "the woodchopper," stand with your feet a little wider than your shoulders and hold your ball over your head – this is the neutral position. Keeping your arms straight the entire time, bend your waist so your upper body moves forward, while simultaneously bringing your arms back as though you were throwing the ball to someone behind you. Return to the neutral position. Now make the opposite movement: lean back but make a forward-throwing motion. Again, return to the neutral position. Repeat this exercise in sets of 10.
To keep up that abdominal burn, sit down on the floor next, with your legs out straight. Your medicine ball should be hovering over your lap: clutch it with two hands. Turn your upper body to the right as far as you can. Return to the starting position. Now turn to your left as far as you can, and then go back to the starting position. As with the first exercise, repeat this exercise in sets of 10.
You can also try crunches. Lie on your back and hold your medicine ball straight up over your head. Raise your feet off the floor and bend your knees at right angles. Each time you come up for a crunch, touch your toes with your ball. That is, come up, tap your left foot, and lie back down. Then come up again and tap your right foot this time. Keep switching feet as you work through your reps.